Extreme Sports Biking
Key Information:
Tour Duration: 8 days
Destination(s): Hungary
Season: May - September
Airfare Included: No
Minimum Per Person Price: 484 Pound Sterling (GBP)
The area around Lake Balaton is ideal for a cycling holiday, cycle ways on the south of the lake and quiet country lanes to the west and north of the Lake. Besides Budapest Hungary is not well populated by tourists, so this is a opportunity to discover the rest of Hungary.
Lake Balaton is central Europe's largest lake and is known as the "Hungarian Sea". The water in the summer months is wonderfully. The water temperature reach 20-26C during the summer months. The lake has many sandy beaches were you can relax before, during and after your days cycling. Lake Balaton is to the south west of Budapest it takes 3 hours to get there by train. This tour should be suitable for first time cycle tourists and also for professional cyclist.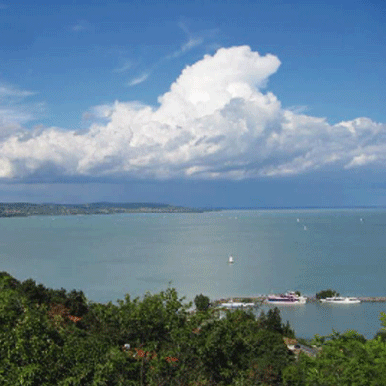 Schedule:
Day 1: Balatonfenyves
Arrival at Balatonfenyves a village on the south coast of the lake and a short 3 hour train ride from Budapest. You can also fly with Ryanair to Balaton itself.
Day 2: Balatonfenyves to Keszthey 42 km
A beautiful cycle ride to Keszthely a wonderful bathing town. It is also a cultural centre for the region. The Festetics Palace have many concerts during the summer.
Day 3: Keszthely to Heviz Spa 60km
A ride to the world famous Spa at Heviz. Your chance to swim in this wonderful Lake Balatonresort. This is a wonderful route and a very quiet area on lovely country lanes.
Day 4: Visit to Sumeg 35 km
A ride to the hilltop of Sumeg and then to the Vineyards to taste the local wine. Now you are on the north side of the lake and this region is less commercial than the south side.
Day 5: Nagyvazsony 50km
A ride through the upper region of the Lake where you will cycle through a medieval castle. This is a very old and big castle, people who went there say it is one of the most surprising castle they have ever seen.
Day 6: Nagayvazsony to Balatonfured 30 km
A ride to the Tihany peninsular and its 900 year old village. Through a rough terrain National Park.
Day 7: Balatonfured to Balatonfenyves 50km
A boat trip to cross the south shores of the lake before a nice ride back to your tour start.
Day 8: the tour is complete after breakfast.
Notes:
Airfare is not included in the tour price.
Price includes:
- 7 Nights Bed and Breakfast
- 3 star hotels
- Dinners
- Information Pack
- Luggage transfers
- Routes and Map
Price do not include:
- 21 speed Rental Cycle
- Cost before and after tour
- Extra nights in Budapest
- Flights
- Travel Insurance
http://www.hookedoncycling.co.uk/Hungary/hungary.html
by Tim Morgenrood.
in hungary there wasn't as much extreme sports as we thought.
we only saw some soccer and basketball but offcourse that isn't a extreme sport.
as a experienced biker i can tell you that there are some very nice locations to go biking!
and i found out that travel agencies organize vacations for biking in the area.