Eco Tourists
On this page, you'll find information about a trip for Eco-tourists. If you're interested to join this trip click here. And we'll send you a free information package, in which you'll find more information about the times, prices, and about the program.This trip will take 5 days.
Hungary is very rich in natural treasures, for many of the habitats of its flora and fauna have remained practicly in tact. The habitats are located in the lowland plains, bogs and marshes, wetland, grazing land, woods, and grasslands. It has 10 National parks, 36 landscape protection areas, and 142 nature conservation areas, where Eco-tourists like to come.
In this holiday you can choose from some thing what you want to do. If you look at the programme, the choices will become clear. When we arrive in hungary, you will get a bike which we will use to get to all kind of places, so there won't be caused pollution.
Day 1 Today, you will leave holland by train. We will go with the train to Hungary. when we arrive in hungary, we'll go to the hotel, and you'll what we'll do next.
Day 2 People will be able to go to a national park. They have 2 options of parks to go to.
Aggtelek National park
This national park, is set up in 1985 to protect natural treasures, serface formations, and caves. 75% of it is with forest. There more than 200 karst caves of different size. So if you go to this national park, there is a lot to do, you can go to caves, and to the forest.
Hortobágy National park
This national park is located on the eastern part of the Hongarian plains. It is Hongary's largest protected area. It has a lot of natural features, in this national park tourists can enjoy based on the careful use of land. So without polluting. It's the habitat of different animals. Some famous Hongarian animal species, also live here. Such as grey cattle, and the Racka, which is a kind of sheep which only lives in hungary. Horseriding is also a common activity over here.
Day 3 Today we'll go to another national park, sorry but this day you can't choose to which park you want to go, because we will go to the lovely and beautiful national park:
Fertö-Hanság National Park
Lake Fertö Europes largest salt water lake, located near the border of Austria and Hungary. The thick reed-beds and the marshy areas form a bird paradise. This park was set up to protect the natural water areas of Europe.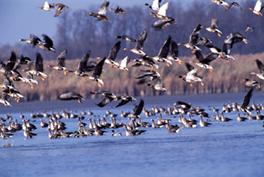 Day 4 Today there's a possibility to walk in the mountainious areas.
Day 5 This day, our train will go back to Holland. We don't go anywhere, so you have the posibility to pack your bags and all your stuff so you'll be on time at the train station so you won't miss your train home.